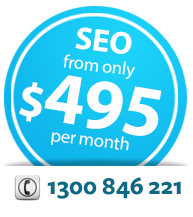 Getting your website to rank well in Search Engines is a key part of online advertising for your business.
When we design websites, they are built to be Search Engine friendly.
We target search terms based on the area you service, eg 'plumber Smithsville'.
Whilst our websites provide the perfect platform to promote your business, if you want to grow your business, you need to expand your website and add quality content.

---
What is SEO?
Search Engine Optimisation (SEO), is the art of building or improving a website so it can obtain strong rankings in the organic listings in Google.
We do this by researching relevant keywords for your business and then 'optimising' the text and code of the website.
Only available to existing clients
We only offer our SEO services for websites that we build in the first place.
Why? For best results, it's important to have a well built website in the first place - and not all websites are built well.
Our websites are built with Search Engines as a key focus - which provides the perfect platform for additional SEO work.
SEO Packages from just $495 per month.
Call us today on 1300 846 221 and we will discuss your requirements an SEO proposal.